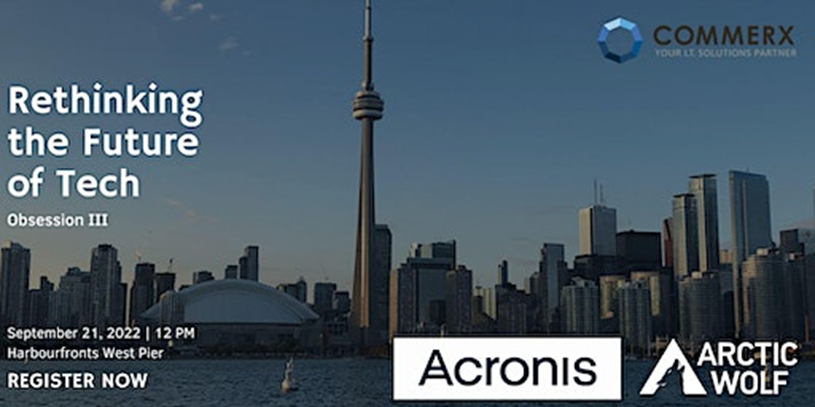 Come spend a leisurely afternoon with Commerx, your IT Solutions Partner, cruising around beautiful Lake Ontario aboard the Obsession III*
 Is your Data ready for the Future? Joining us for an afternoon of sightseeing, dining and casual conversation are Artic Wolf and Acronis.
Arctic Wolf – The Leader in Security Operations – https://arcticwolf.com/
Acronis – The Solution that integrates cybersecurity, backup and protection management to keep your business flowing – https://www.acronis.com/en-us/
Our event takes place on Wednesday September 21, 2022 aboard the Obsession III Luxury Yacht on the West Side of the Harbourfront Centre at the foot of Lower Simcoe St.
Arctic Wolf and Acronis will provide a high level overview of their offerings that address current Cybersecurity Concerns around Data while you enjoy a leisurely lunch.
Explore the two-deck ship with retractable roof while speaking with the experts onboard to determine how Commerx together with Arctic Wolf and Acronis can better help you keep your business secured and protected.
*Must be registered to board.
Please reach out to your Sales Account Manager to Register