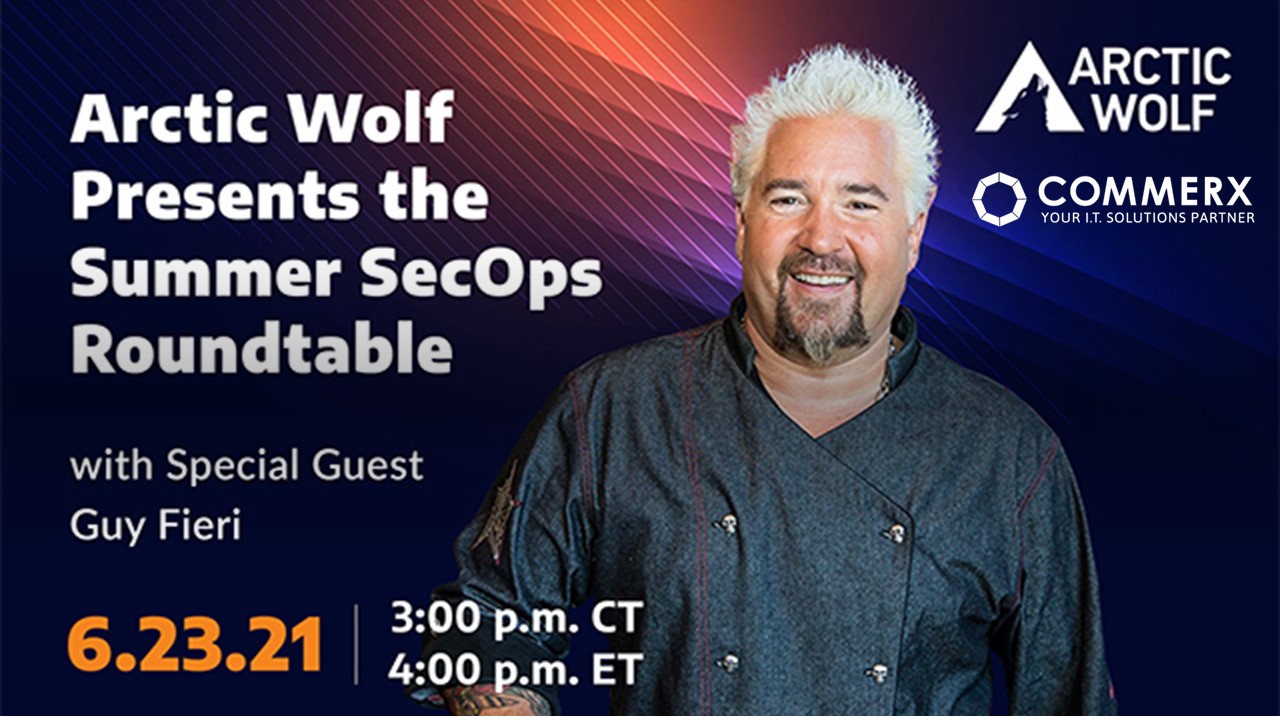 On Wednesday, June 23rd, join us for the Arctic Wolf Summer SecOps Roundtable. Our partner, Arctic Wolf, will host expert IT and Security leaders from diverse organizations to discuss their most critical cybersecurity challenges and how they're ending cyber risk in the year ahead. 
Summer SecOps Roundtable, with Special Guest Guy Fieri
June 23, 2021
3:00 – 4:30 p.m. CT
Roundtable topics include key lessons learned from a turbulent year, pivotal decisions that impacted security outcomes, and how to plan for a more secure future. 
Security isn't the only place where expert advice comes in handy. After the roundtable chat, we'll turn up the heat for a live cooking demonstration with the Mayor of Flavortown, Guy Fieri. He'll be serving up tips on how to create unforgettable appetizers, level up your grill game, and top off any party with the perfect summer cocktail #DDD style. 
Register today: Secops Roundtable – Arctic Wolf
Hope to see you there!
Guy Fieri, chef, restaurateur, New York Times bestselling author, and Emmy Award-winning host, began his love affair with food at the age of ten, selling soft pretzels from a three-wheeled bicycle cart he built with his father called "The Awesome Pretzel Cart". After selling pretzels and washing dishes for six years, Guy earned enough money to pursue his dream of studying abroad as an exchange student in Chantilly, France. There he gained a profound appreciation for international cuisine that further strengthened his passion for food. He returned to the U.S. and graduated from the University of Nevada, Las Vegas with a degree in Hospitality Management. In 2006, Guy won the second season of Food Network Star and was awarded a six-episode commitment for his own show, Guy's Big Bite. Since that time, Guy has created a thriving culinary empire as the host of top- rated TV shows, including the Emmy-nominated Diners, Drive-Ins and Dives, Guy's Grocery Games, Guy's Family Road Trip, and most recently, Guy's Big Project and Guy's Ranch Kitchen. In addition, he has opened over 63 restaurants around the world and at sea, from the Las Vegas strip and the Atlantic City boardwalk to South Africa and Dubai. He has also authored six bestselling cookbooks. In 2013, Guy fulfilled a personal passion with the launch of Hunt & Ryde Winery in Sonoma County, named for his two sons, Hunter and Ryder. He continues to support numerous charities, including his own, Cooking with Kids, as well as The Make-A-Wish Foundation and Best Buddies International. Guy resides in Northern California with his family.
DISCOVER THE RIGHT SOLUTION TODAY